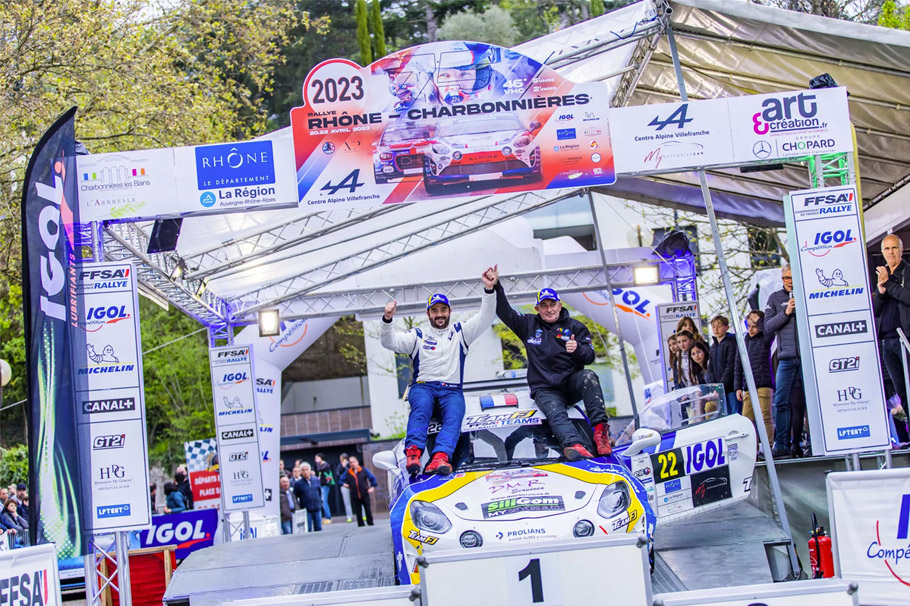 Fabrice Bect wins the Alpine Elf Rally Trophy
The Alpine Elf Rally Trophy kicked off this weekend at the Rallye Rhône-Charbonnières with a record field. Fabrice Bect won for the second straight time after a breathtaking battle with Grégory Fontalba and Ludovic Godard in extremely challenging weather conditions. The Alpine A110 Rally also won in the French Two-Wheel Drive Rally Championship in the hands of Cédric Robert.
The Alpine Elf Rally Trophy launched its third season with the largest service park in its short history at Charbonnières-les-Bains.
2022 season-finale winner Fabrice Bect started the year as he had finished the previous one by immediately taking the lead ahead of Ludovic Godard and Grégory Fontalba, who went on top on the following stage. However, Fabrice Bect reclaimed first position at midday by 1.6s while Ludovic Godard was 5.2s further back and 5.2s over Jean-François Mourgues.
The fight intensified in the afternoon. Grégory Fontalba set the best time on Bibost - Montrottier - Brullioles 2 and Saint-Clément - Villechenève 2 to storm back on top, but conditions and tyre choices in the final timed sector of the day worked in favour of Fabrice Bect, finishing the leg with a 0.2s advantage. Ludovic Godard remained in contention, 8.1s off the lead while distancing Jean-François Mourgues and Jérémy Crétien, now involved in a thrilling duel.
The gaps narrowed even more on Saturday with Ludovic Godard's first stage win on SS7. Fabrice Bect quickly reacted to take a 7.0s advantage after the longest special stage of the rally. Grégory Fontalba did not yield though and turned his 8.1s deficit into an 8.5s lead thanks to a wise bet on a slightly wet road. However, the leader lost it all when he went off the road at the beginning of the decisive loop.
Once he was back on top, Fabrice Bect put the hammer down on the penultimate stage to go to victory with a 20.2s margin over Ludovic Godard. The Team FJ Gentlemen also won his class with a 54.3s lead over Jean-François Mourgues, who benefited from a small mistake by Jérémy Crétien to finish third overall. Driving for Code Racing Development, Jérémy Crétien won among the Challengers while Vincent Leduc completed the Gentlemen podium ahead of Bertrand Fassio, Romain Haut-Labourdette, Éric Royère, Éric Giannini and Élodie Gines.
Meanwhile, the Alpine A110 Rallys excelled in the French Rally Championship, mixing it up once again with the best four-wheel drive cars. Always among the leaders, Cédric Robert finished sixth overall and won the two-wheel drive category ahead of Raphaël Astier and Fabrice Bect. For his Alpine A110 Rally debut, Stéphane Lefebvre was in the top three before a roll on SS6.
The Alpine Elf Rally Trophy returns next month on the stages of the Rallye Antibes Côte d'Azur (18-20 May 2023).
Fabrice Bect: "We have made more progress since our win in the Var last year and we clearly understand how the Alpine A110 Rally works and put it to good use in this great three-way battle with Ludovic Godard and Grégory Fontalba. This intense battle was cut short in the last loop with Grégory's exit, and I'm sorry for him, but I hope we will resume the battle at Antibes!"
Jérémy Crétien: "It was a brilliant weekend where we learnt a lot about the car in difficult conditions and with tyre choices giving us a hard time. I'm disappointed that our small mistake cost us the podium. We lost about ten seconds, but we gave it all we had on the last stage with a fantastic time that unfortunately wasn't enough. We will get our revenge at Antibes."
Classification
1. Fabrice Bect – Arnaud Michal 1h54:56.5s
2. Ludovic Godard – Matthieu Bole-Richard +20.2s
3. Jean-François Mourgues – Michel Roissard +54.3s
4. Jérémy Crétien – Xavier Rouchouze +56.1s
5. Vincent Leduc – Caroline Puel +2:02.5s
6. Bertrand Fassio – Jean-François de Montredon +3:13.0s
7. Romain Haut-Labourdette – Fabien Tardito +5:15.7s
8. Éric Royère – Gilbert Dini +5:21.1s
9. Éric Giannini – Alexandre Denuzière +5:55.2s
10. Élodie Gines – Lisa Tornior +12:13.5s
Ret. Grégory Fontalba – Stéphan Hermet
General classification
1. Fabrice Bect 20 points
2. Ludovic Godard 15 points
3. Jean-François Mourgues 12 points
4. Jérémy Crétien 10 points
5. Vincent Leduc 8 points
6. Bertrand Fassio 6 points
7. Romain Haut-Labourdette 4 points
8. Éric Royère 3 points
9. Éric Giannini 2 points
10. Élodie Gines 1 point
11. Grégory Fontalba 0 point
Recommanded articles