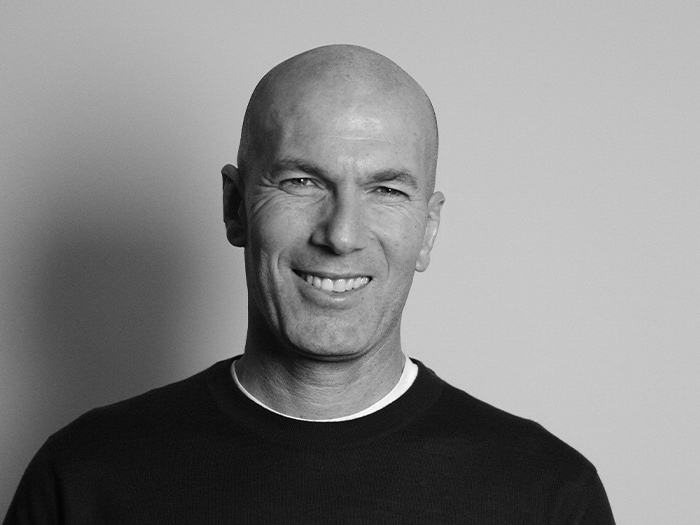 Alpine announces Zinedine Zidane as ambassador
Alpine and Zinedine Zidane and are joining forces to promote equal opportunities in sport and the automotive industry with diversity being the cornerstone of performance.
Through Zinedine's shared experience and aura, Alpine wants to inspire the younger generation of talent to convey the message that everyone, regardless of gender, origin, or background, has the means to thrive professionally and become a champion.
Alpine announced, during the team's official Formula 1 Launch event in London for the presentation of the A523 and the new developments of its Rac(H)er programme for inclusion, that Zinedine will become the brand ambassador and sponsor of its equal opportunities programmes, Rac(H)er and the Concours Excellence Mécanique.
Zinedine's journey as an international football icon, both as a player and now as a coach, is an inspiring example for all the beneficiaries of Alpine's equal opportunities programmes with a strong statement: without diversity, both sport and society are deprived of the talents that are essential to their performance and success.
The French world champion, who is also passionate about motorsports, will also have the opportunity, with his perspective as a user and ambassador, to participate in the reflection on the transition to the future of the automobile and the development of the Alpine models of tomorrow.
Laurent Rossi, CEO Alpine: "Zinedine Zidane is not only a great champion and a sporting legend, but he is also a dedicated man who has decided to use his global presence to inspire young people and drive change towards creating equal opportunities. He is an example of what we as a company should stand for: a tenacious mindset, natural talent and an advocate for promoting inclusion for all while maintaining meritocracy by pushing those around him to strive for greatness. It is with great pride that Zinedine joins Alpine to make a difference".
Zinedine Zidane: "It's a story of encounters as always. I liked the vision and the concrete approach of the Alpine teams, especially in the implementation of their equal opportunities' programmes, especially since I have a particular affection for Alpine as a Frenchman and Formula 1 fan. I think it's important to tell children that, wherever they come from, they can one day become the champions of tomorrow in whatever walk of life they choose and that they should always believe in their dreams... This Alpine project is here to help make that possible. Change takes time, so if I can contribute and help speed things up, it's with great satisfaction for me."
About Alpine
Founded in 1955 by Jean Rédélé, Alpine has asserted itself over the years with its French-style sports cars. In 2018, the brand presented the new A110, a sports car that is true to Alpine's timeless principles of compactness, lightness, agility and driving pleasure. In 2021, the Alpine Business Unit was created, to become the dedicated brand for the innovative, authentic and exclusive sports cars of the Renault Group, benefiting from the heritage and know-how of its historic Dieppe factory and the engineering expertise of the Alpine Racing and Alpine Cars teams.
About the Rac(H)er Programme
Launched in July 2022, Alpine's Rac(H)er programme is designed to reinforce meritocracy across genders in all areas of the company. From racing drivers to engineering and technical roles, the Rac(H)er programme lays out a clear and defined roadmap to increase the diversity of talent within Alpine. The programme is transformative and performance enhancing. Rac(H)er is part of Renault Group inclusion and diversity plan, supporting the development of this Alpine programme to go even further to promote and develop equal chance for all within the automotive industry.
About the Concours Excellence Mécanique Alpine (CEMA)
The Concours Excellence Mécanique Alpine is a French nationwide competition for students enrolled in the Automobile Maintenance and Automobile After-Sales sections at BAC and BAC+1 levels. Mentored by Esteban Ocon, the Concours Excellence Mécanique Alpine aims to position the automotive engineering sector as a path of excellence open to all by promoting meritocracy and equal opportunities.
About Zinedine Zidane
Zinedine Zidane is an international football legend. The French midfielder has played for several major football clubs, FC Girondins de Bordeaux, Juventus de Turin and Real Madrid. He won the Ballon d'Or in 1998, which coincided with one of the greatest periods of the French national team, with "Les Bleus" winning the 1998 World Cup and the 2000 European Championship. After his retirement as a player, he became coach of Real Madrid and won numerous trophies, including three consecutive Champions League titles. He was the first person in history to win the FIFA Best Coach and Best Player awards. He has also been involved with the ELA association for twenty years in the fight against leukodystrophy. Through his club Z5 and his Academy, he is also committed to promoting access to football for as many people as possible.
PRESS CONTACTS
Orianne Tamburini
Head of product communication
orianne.tamburini@alpinecars.com
+33 6 26 63 28 14


Johanna Moreau
Alpine Press Officer, Products & F1 johanna.moreau@alpinecars.com +33 (6) 38 28 03 44
Recommanded articles