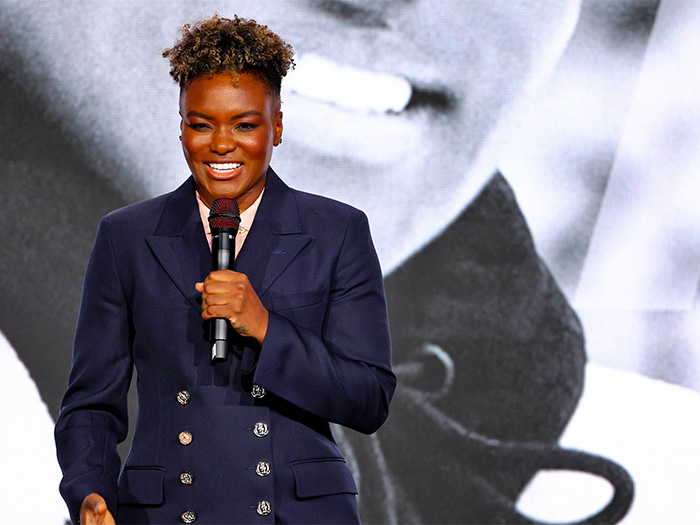 Alpine's Rac(h)er Programme for equal opportunity
Alpine's Rac(h)er Programme for equal opportunity announces new talents and the creation of its human hight-performance centre
Alpine has taken another step forwards in its commitment to promote inclusion in all areas of the industry, from technical functions to racing, thanks to Rac(H)er, its programme launched in July 2022 to develop Alpine's sports and business performance.
Alpine is launching a new Human High-Performance Centre in Enstone to develop a performance-based individual training programme for drivers and pursue its fight against bias and prejudices towards women.
Nicola Adams, double Olympic champion and Britain's most successful female boxer of all time, officially becomes an Alpine mentor to inspire Alpine teams to constantly push themselves, whatever their gender.
New talents are also promoted as Sophia Floersch officially joins the Alpine Academy in the FIA Formula 3 Championship, alongside Abbi Pulling who becomes a fully-fledged Academy Driver in the Formula 1 Academy Series in 2023. Six female talents also join the Alpine's young driver karting programme and will follow an outstanding programme to turn them into the champions of tomorrow.
Zara Rutherford, the youngest female pilot to complete a solo round-the- world flight in an aircraft, is joining forces with Alpine to share her experience and inspire the next generation of talent.
During the team's official Launch Event in London for the presentation of its 2023 Formula 1 challenger, the A523, Alpine announced new developments for its Rac(H)er programme confirming its ambition to promote equal opportunities for men and women to enhance its performance.
Creation of the Human High-Performance Centre (HHPC) to put performance at the core of Alpine programme
While conducting an essential cultural shift in its organisation, Alpine also announced new developments to continue fighting against bias and prejudices against women in motorsports and the industry. In 72 years of Formula One racing, only six out of 885 drivers have been female, an under-representation of women, which is also accurate within the automotive industry. For Alpine, bringing diversity to its workforce while maintaining a meritocracy is an important pillar in improving its overall performance.
To achieve this goal, Alpine announces the creation of the Human High-Performance Centre in Enstone (UK) to place performance and drivers at the heart of its training programme. Alpine teams have designed a scientific protocol and a unique research programme to measure the physical, physiological, and cognitive data of its drivers and teams. With use of specialised knowledge of very specific data, the Human High- Performance Centre will house the progress of Alpine athletes, whatever their gender. This data will both improve Alpine's understanding of its athlete's performance and contribute to the creation of tailor-made training programmes built up by Alpine Academy Director Julian Rouse and his team, overseen by BWT Alpine F1 Team Principal Otmar Szafnauer.
The programme will be coupled with significant investment in the Alpine Academy.
Inspiring Alpine teams to strive for excellence with Nicola Adams as role model and coach
Nicola Adams, two-time Olympic champion and gender equality activist, commits long-term with Alpine as its new role model and coach of the brand.
Throughout the year, Nicola Adams will coach both the Academy drivers and the Alpine F1 teams based in Enstone. She will also give conferences to inspire, motivate and raise awareness of diversity as a key driver of performance.
A new generation of female drivers on track to become the champions of tomorrow
Rac(H)er was also reinforced with the promotion of its new talents as Sophia Floersch joins the Alpine Academy and will race in the FIA Formula 3 Championship in 2023 on the Formula 1 Grand Prix support race undercard. The talented 22-year-old German driver perfectly embodies the direction of the team and has demonstrated a strong will for success during her career. She will benefit from a tailor-made racing and development programme and will compete in the highly competitive Formula 3 Championship. Her arrival in the Alpine Academy is part of Alpine's ambition to expand its opportunities to young talents, especially in upping its game for the World Endurance Championship and Le Mans 2024.
Abbi Pulling also reaches a new milestone in her career, stepping up from being an Alpine Affiliate Driver to the Alpine Academy as she sets her sights on the new 2023 Formula 1 Academy Series fresh off the back of impressing in W Series in 2022. In the Alpine Academy, Abbi will benefit from the same training programme as all the drivers of the programme.
As part of the Rac(H)er programme, six female talents officially join the Alpine's young driver karting programme: Aiva Anagnostiadis (15, from Australia), Angélina Proenca (13, from France), Chiara Battig (12, from Switzerland), Lisa Billard (13, from France), Maria Chiara Nardelli (12, from Italy) and Kaur Kera Sukhmani (10, from the United Kingdom). The six drivers will benefit from a tailor-made, purpose built sports programme to grow them into the champions of tomorrow.
These announcements embody Alpine's will to accelerate the development of female racing talents within the team.
Zara Rutherford, an inspirational role model for the younger generation
As the youngest female pilot to complete a solo round-the-world flight in a an aircraft, Zara Rutherford perfectly matches the Alpine spirit and the will to represent and inspire the younger generation. She will share her experience alongside Alpine to inspire young talents.
Programmes to promote cultural change within Alpine and empower female talent
With the Rac(H)er programme, Alpine is committed to promoting the inclusion and subsequent promotions of a diverse workforce at all levels with an aim of 30% females within five years (vs. 12% in 2022). As announced in June 2022, several initiatives have been launched internally to reach this goal. Alpine will be the first Formula 1 Team to collaborate in its Enstone facility with Springboard. The brand will benefit from its extensive 34-year history of creating leading personal development programmes to nurture women leadership.
This pilot programme will be combined with other innovative initiatives. Alpine has launched and implemented at its Enstone factory a specific workshop "Allyship Training" for empowerment and created a Women in Engineering Group pioneered by the Stress team to raise awareness of Women in Engineering at Alpine.
Laurent Rossi, Alpine CEO: "Rac(H)er is key in our continuous quest for performance, to build the future of our industry by driving real change and creating equal and fair opportunities across a range of human talents. Sophia and Abbi, for example, are a fine example of such talents. I am delighted that Sophia is joining our programme and it's an honour to promote Abbi to the Academy. Both drivers, I am sure, will bring a lot to Alpine."
Claire Mesnier, Alpine Human Resources VP: "With Rac(H)er, we have been working relentlessly over the past six months, with the support of Renault Group, not only to encourage reflection, but also to put in place concrete actions to move forwards. Now that we have shifted our organisation's culture, we accelerate forwards with the creation of the Human High-Performance Centre as well as by the deployment of numerous internal initiatives to empower women and encourage new generations to join the motorsport industry, whether engineers, mechanics, or drivers."
Sophia Floersch, Alpine Academy Driver: "Joining the Alpine Academy is an honour and a major opportunity in my career. I have great ambitions and I am sure by applying the knowledge and expertise from Alpine, it will only help me grow. I can't wait to start this new chapter and represent the Alpine brand on the global stage."
Nicola Adams, two-time Olympic champion and Alpine mentor: "As a top athlete, my mentors have played an instrumental role in my career. I can't wait to pass on my experiences, to coach the drivers and teams, to share and give advice to them as well as to make my contribution to Alpine and help alleviate gender inequalities in sport."
About Alpine
Founded in 1955 by Jean Rédélé, Alpine has asserted itself over the years with its French-style sports cars. In 2018, the brand presented the new A110, a sports car that is true to Alpine's timeless principles of compactness, lightness, agility and driving pleasure. In 2021, the Alpine Business Unit was created, to become the dedicated brand for the innovative, authentic and exclusive sports cars of the Renault Group, benefiting from the heritage and know-how of its historic Dieppe factory and the engineering expertise of the Alpine Racing and Alpine Cars teams.
About the Rac(H)er Programme
Launched in July 2022, Alpine's Rac(H)er programme is designed to reinforce meritocracy across genders in all areas of the company. From racing drivers to engineering and technical roles, the Rac(H)er programme lays out a clear and defined roadmap to increase the diversity of talent within Alpine. The programme is transformative and performance enhancing. Rac(H)er is part of Renault Group inclusion and diversity plan, supporting the development of this Alpine programme to go even further to promote and develop equal chance for all within the automotive industry.
About Nicola Adams
Nicola Adams is Britain's most successful female boxer and first female boxer to become two-time Olympic champion. Nicola Adams held the WBO world champion belt between 2018-2019. Named The Most Influential LGBT Person in Britain by The Independent, she is also particularly committed to equality issues.
About Zara Rutherford
Zara Rutherford is a Belgian-British aviator. She is the youngest female pilot to have flight solo around the world and the first person to complete a circumnavigation in a microlight aircraft.
About Sophia Floersch
Sophia Floersch is a female German racing driver and motorsport pioneer. She has competed in the European Le Mans Series as well as raced in the DTM, the FIA World Endurance Championship and FIA Formula 3. In 2016, the German driver was the first woman to score points in the German Formula 4 Championship, and the following year she was the first woman to reach the podium. In 2018, during the Macau Grand Prix, she had a serious accident in which she broke her spine. Miraculously, her spinal cord was not damaged and just one year later, Sophia Floersch was back in the championship.
About Abbi Pulling
Abbi Pulling is a female British racing driver. At the age of 19 she has won multiple karting championships and had multiple podiums in her early single-seater career. Abbi's sights are set on reaching the pinnacle of motorsport, Formula One.
Recommanded articles