A110 R
THE MOST RADICAL A110
SPORTING APPROVED
1 082 kg
Kerb Weight
0-60mph acceleration
3.9s
Rear-wheel drive
Transmission
177mph
Maximum track speed
300 hp
Maximum power at 6,300rpm
With radical lightness, extreme aerodynamics, and a matt racing blue colour born exclusively from Formula 1®, the A110 R is the ultimate expression of Alpine's ongoing quest for enhanced sensations on the track and road.
DESIGN
RADICAL NEW THRILLS
Hear the motor hum.
With A110 R, a steep and winding road is all you need to experience thrills like never before. Lower, faster, and more dynamic, with its sharpened chassis. Its Matt Racing Blue livery immerses you in the sporty universe of your BWT Alpine F1® Team.
You are behind the wheel of the most radical Alpine car.
CARBON-FIBRE POWER
F1® carbon is incorporated into every element - front blade, bonnet, side skirts, rear spoiler, diffuser, rear window, and special wheel rims - to offer a radically lighter A110 R, shaving off 34 kg* for optimum performance.
(*) 34 kg lighter than the A110 with Aero Kit and without carbon roof.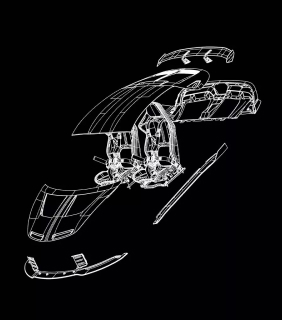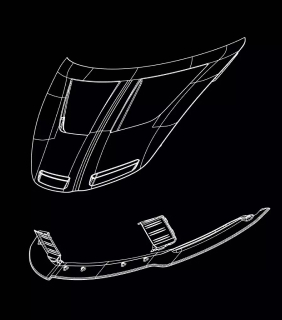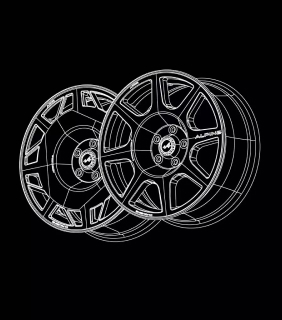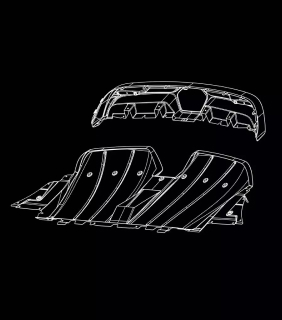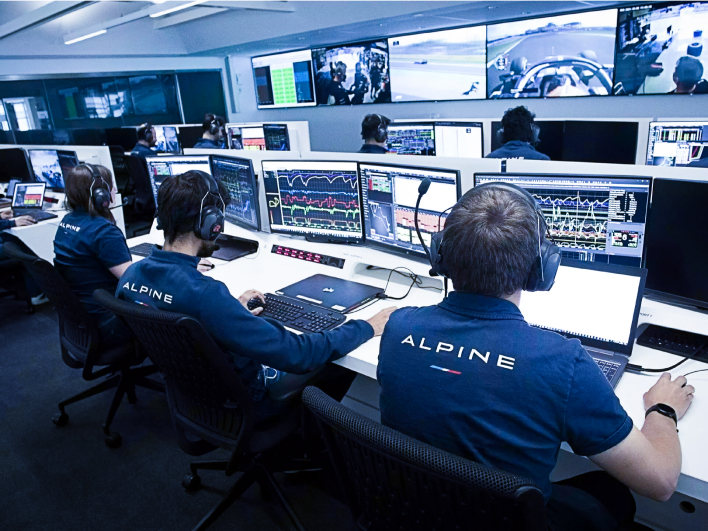 F1® Expertise
MORE THAN A SPORTS CAR, IT'S A RACING CAR
Our engineers are obsessed with allowing you to drive as fast as possible on the straights, while maintaining an optimum speed on bends, just like on a Formula 1® race track.
Alpine teams worked tirelessly with our BWT Alpine F1® Team to offer you a racing car approved for the road.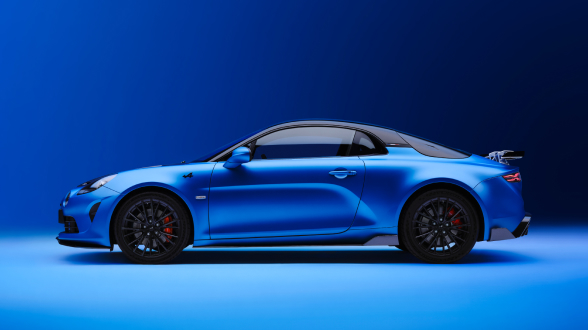 CHASSIS
Your trajectories have never been so precise. An exclusive chassis, which is 10 mm lower than a A110 S. It can be adjusted by an additional 10 mm on the track and has a unique combination of carbon wheel rims/Michelin PS Cup 2 semi-slick tyres, and more. Everything to make you smile during everyday driving and on the track.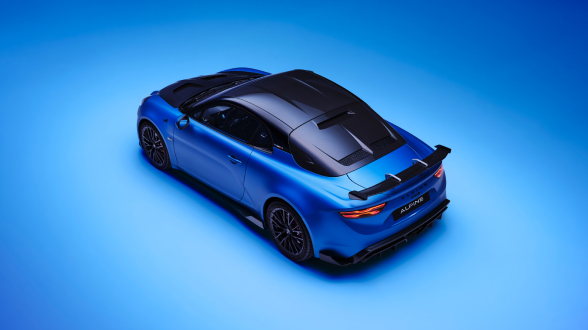 AERODYNAMICS
The entire aerodynamics has been redesigned so that your A110 R sticks to the road. With its diffuser, rear spoiler with gooseneck attachment, side skirts, Aerocarbon wheel rims, nothing has been left to chance.

Result: up to 29 kg extra downforce compared to an A110 S Aero Kit and 5% less drag to reach 285 km/h on the track!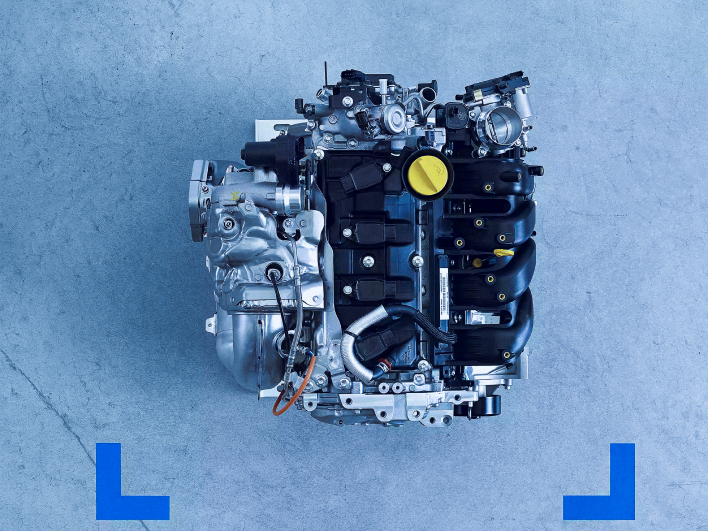 PERFORMANCE
THE FIRST ALPINE A110 UNDER 4 SECONDS.
3,9 s
0-60mph acceleration
The Launch Control propels the A110 R to 60mph in just 3.9 seconds
21,9 sec
Standing start for 1,000 m
The A110 R joins the world of sports cars able to cover 1,000 m within 22 seconds from a standing start
177mph
on the track
Lighter, more aerodynamic, the A110 R is the fastest in its range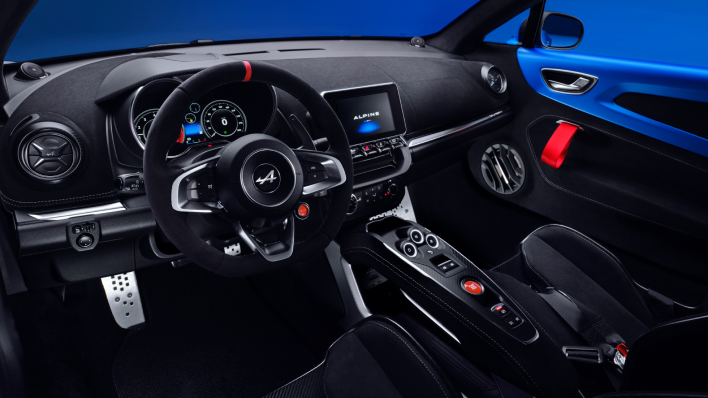 COCKPIT
OPEN THE DOOR TO NEW SENSATIONS
Microfibre
Microfibre
The cockpit is made entirely of microfibre and the fabric straps for opening the doors remind you that this car is made to race on the track.
Sabelt® Track seat
Sabelt® Track seat
Strap yourself into the monocoque carbon Sabelt® Track seat, fitted with a 6-point racing harness; now you know how it feels to line up at the starting line.
Numbered
Numbered
Your A110 R's number engraved on a plate located under the central console is unique.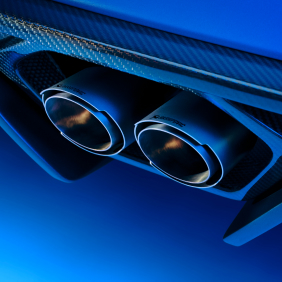 Unique sound
Unique sound
New sensations provided by the brand new exhaust system with 3D printed central twin pipe. An Alpine signed sporty sound.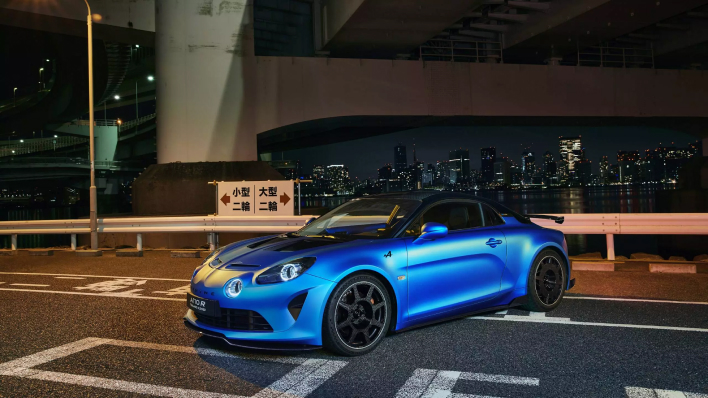 LIMITED EDITION
A110 R FERNANDO ALONSO
32 units to represent the driver's 32 wins in Formula 1® over the course of his career.
A110 R Fernando Alonso is where the track meets the road. It combines our F1 expertise, the know-how of the legendary driver, and Alpine's precision and agility. On this ultimate version, Fernando himself fine tuned the suspension system, covered by an exclusive patent, to deliver the same intense thrills the driver experiences on the track. With this innovation, you can reproduce these adjustments easily.
There's more: Fernando Alonso also had a hand in designing both the exterior and interior, making this special edition A110 R one elegant, unique and radical sports car.