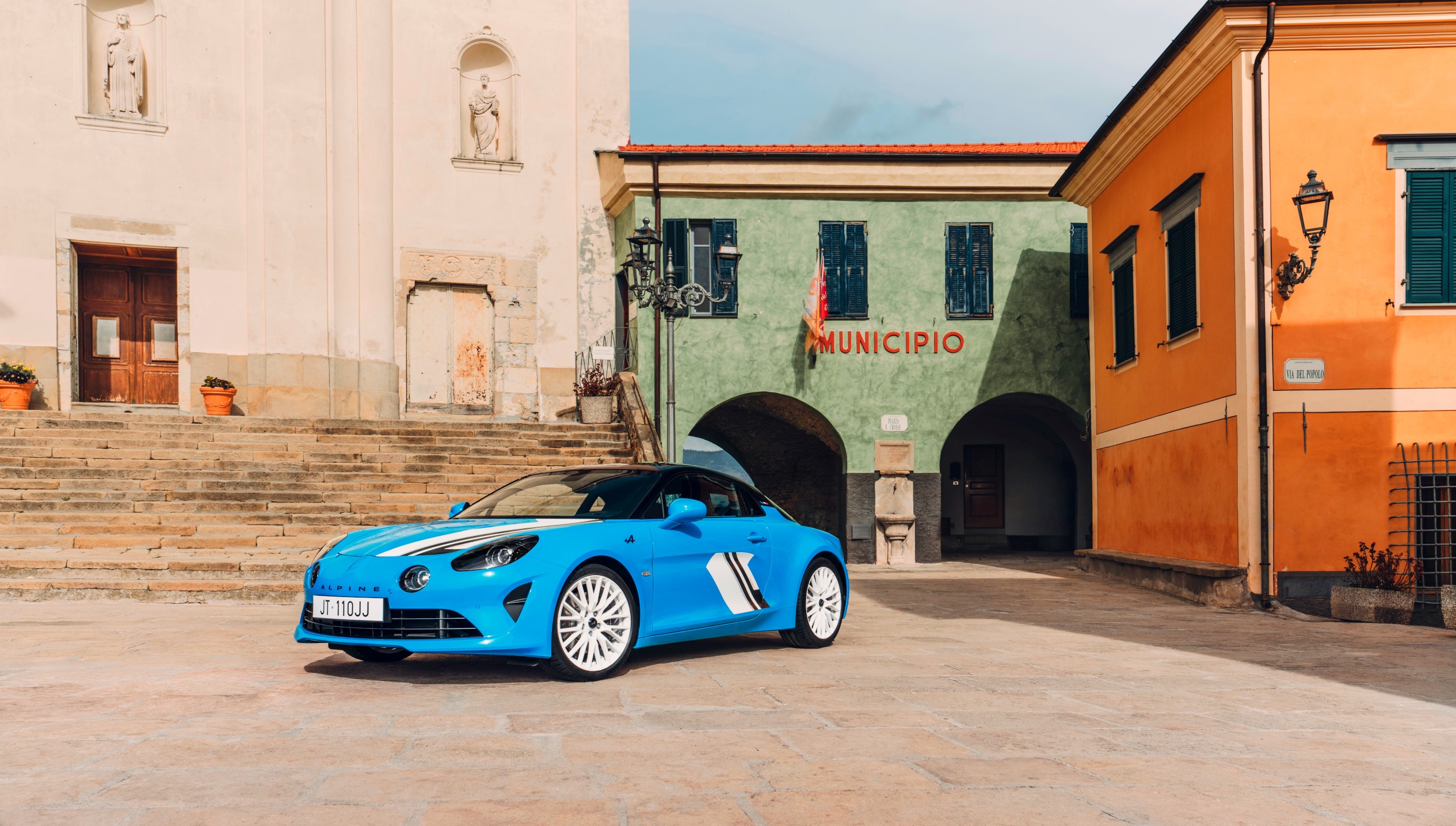 The A110 San Remo, a new iconic livery
The 73 Alpine A110 San Remo. A new iconic livery celebrating the 50th anniversary of the first World Rally Championship and Alpine's exceptional victory.
The spirit of victory
With its classic livery and combination of a playful Alpine chassis and 300hp engine, this is a sports car with strong racing heritage and a duality that echoes the grit and glory of the iconic San Remo stages it proved victorious upon 50 years ago. A red carbon roof on the outside and elegant stitching inside ensure there's glamour to complement its attitude. You're looking at a collector's car with rally DNA packed beneath its striking skin.
A competitive DNA inside and out
A championship-winning livery has enjoyed a contemporary makeover. The A110 San Remo 73 contrasts Caddy Blue paint with black and white flourishes and a striking red carbon roof.
This limited edition A110 adopts the vocal flourish of Alpine's active sports exhaust to ensure your senses never feel too far away from the rally stage.
Gloss White 18'' « Grand Prix » wheels with Black Brembo® brake callipers.
The interior of the A110 San Remo 73 links past glories to fresh technology, building anticipation with its microfibre trim and stunning Sabelt® Racing bucket seats. Exclusive embroidery celebrates the 50th anniversary of a legendary victory.
1 to 200 numbered "San Remo 73" limited edition plate
San Remo 1973, the road to victory
The inaugural Rallye San Remo was held in 1928 and it remained on the World Rally calendar from 1973 until 2003.There was a duality to this event; the glamour of the Italian seaside town leading to gruelling stages above, as well as the mixture of tarmac and gravel surfaces that kept drivers truly on their toes.
These stages felt made for the nimble responses of a rear-engined Berlinette, however, and in the WRC's inaugural 1973 season the Alpine A110 scored a famous victory here. Two places on the podium – including a win for the no.1 car of Jean-Luc Thérier and Jacques Jaubert – sealed a world title for Alpine, placing a brand less than two decades old convincingly above its established rivals. Underdog spirit but with technical expertise underpinning it – just like the A110 of 50 years later. It's now available as a striking San Remo 73 edition to celebrate that famous win, limited to 200 units.
San Remo 1973, the consecration
It's 1973 and the debut World Rally Championship season. Three Alpine A110 1800 are gathered in glamorous San Remo, primed and ready to attack the tough stages that snake out of the town. Two of them make the podium, with Jean-Luc Thérier and co-driver Jacques Jaubert lifting the winner's trophy with a startling six-minutes lead on their nearest rival. Alpine's fifth win of the season is enough to bring the world title to Dieppe with three rallies to spare.
Focus on pilot Jean-Luc Thérier & Co-Pilot, four musketeers
The car is only half the story of Alpine's famous 1973 World Rally Championship title. A great machine needs great athletes to extract the best from it. Jean-Luc Thérier scores most points with three wins in WRC's debut year, though individual driver's trophies are yet to be awarded. His teammates Bernard Darniche, Jean-Pierre Nicolas and Jean-Claude Andruet – altogether, the four musketeers – also score crucial wins to bring the silverware to Dieppe's cabinet.
An underdog spirit coupled with an unparalleled technical sense, just like the A110, 50 years later. The San Remo 73, limited to 200 units, honors this famous victory.
Recommanded articles